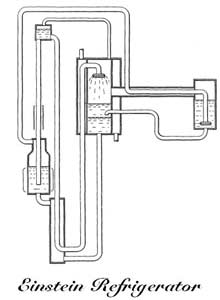 Albert Einstein and
Leo Szilard
invented a fridge in 1930, that has been rebuilt by scientists at Oxford University, which runs without electricity.
Refrigerators waste incredible amounts of energy contributing to greenhouse gas emissions in the atmosphere which is one of the main culprits of climate change.
Einstein's design uses ammonia, butane and water and takes advantage of the fact that liquids boil at lower temperatures when the air pressure around them is lower.
Check out the full report at the
Guardian